Fight to Repair is a reader-supported publication. Sign up to receive updates in your inbox. (It's free!) Or become a premium subscriber for access to exclusive content and live events!
Seventy four year-old Becky Hendricks is a resident of Garland, Texas, told CBS Texas her air-conditioning unit hasn't worked since June 9th. The part ordered to fix her system took weeks to arrive. Even more time was needed to get a service technician to her apartment. So she was forced to either suffer through a dangerous heatwave or buy a personal window-unit. She opted pay to stay cool, and shelled out the money.
Hendricks' system may have been broken, but she's still fortunate. Roughly 31 million people are without air-conditioning—functional or not—in the United States. Even in a country that ranks #2 in the world of most AC units relative to its population, that's only around 10% of the population.* Marginalized communities (especially those who rent) are the least likely to have AC, and as climate change increases the frequency of extreme-heat events such as the heat dome currently smothering Texas and other southern states, they'll suffer more damaging health consequences, and even death. Hendricks' story, viewed through the lens of the mounting climate catastrophe, highlights another issue. Namely: when access to air conditioning becomes a question of life or death, how do we—as a society—address obstacles to obtaining and retaining this critical service?
Renters left waiting for AC repair
Hendricks, reliant on her landlord to fix the machine, was left for weeks in conditions that could have greatly impacted her health had she not taken matters into her own hands. According to CBS, tenants are being advised to submit repair requests, send certified letters to landlords, and contact city inspectors to take action, while the Texas Tenants Union advocates for stronger protections for tenants in such situations.
Just as eviction freezes were set in motion during the pandemic, states and cities from Chicago (proposed) to Oregon (passed) legislation to require AC as a right—hoping to ensure that vulnerable groups are not left in the heat. However, this doesn't fix the issues of landlords leaving tenants to fry while those AC systems break and suffer slow repair and service. Plus, a shortage of AC technicians has created long wait-times and high costs for those looking to fix their broken systems.
Home appliance and HVAC manufacturers have been ardent opponents of proposed state right to repair bills. In New York, for example, they convinced Governor Kathy Hochul to insert a last minute carve-out for appliances and air conditioning in that Digital Fair Repair Act passed by the New York Assembly.
But—as Hendricks' story illustrates—consumers (and the environment) bear the personal, health, and economic consequences of poor repair options, characterized by long waits, low availability, and high costs.
Is AC part of the problem?
Hendricks' story highlights also the complicated ethics around air-conditioning, with some arguing that we should give up air conditioning as a way to force a reckoning with human-induced global heating.** These groups argue that AC is a creature comfort that allows people to continue pumping carbon emissions into the atmosphere, while insulating them from the consequences.
That dynamic plays out globally, where with air-conditioning use (and carbon emissions generally) is low outside of industrialized nations, but exposure to high temperatures quite high. The continent of Africa has roughly 5% of its population owning AC systems yet over half the population is exposed to extreme heat.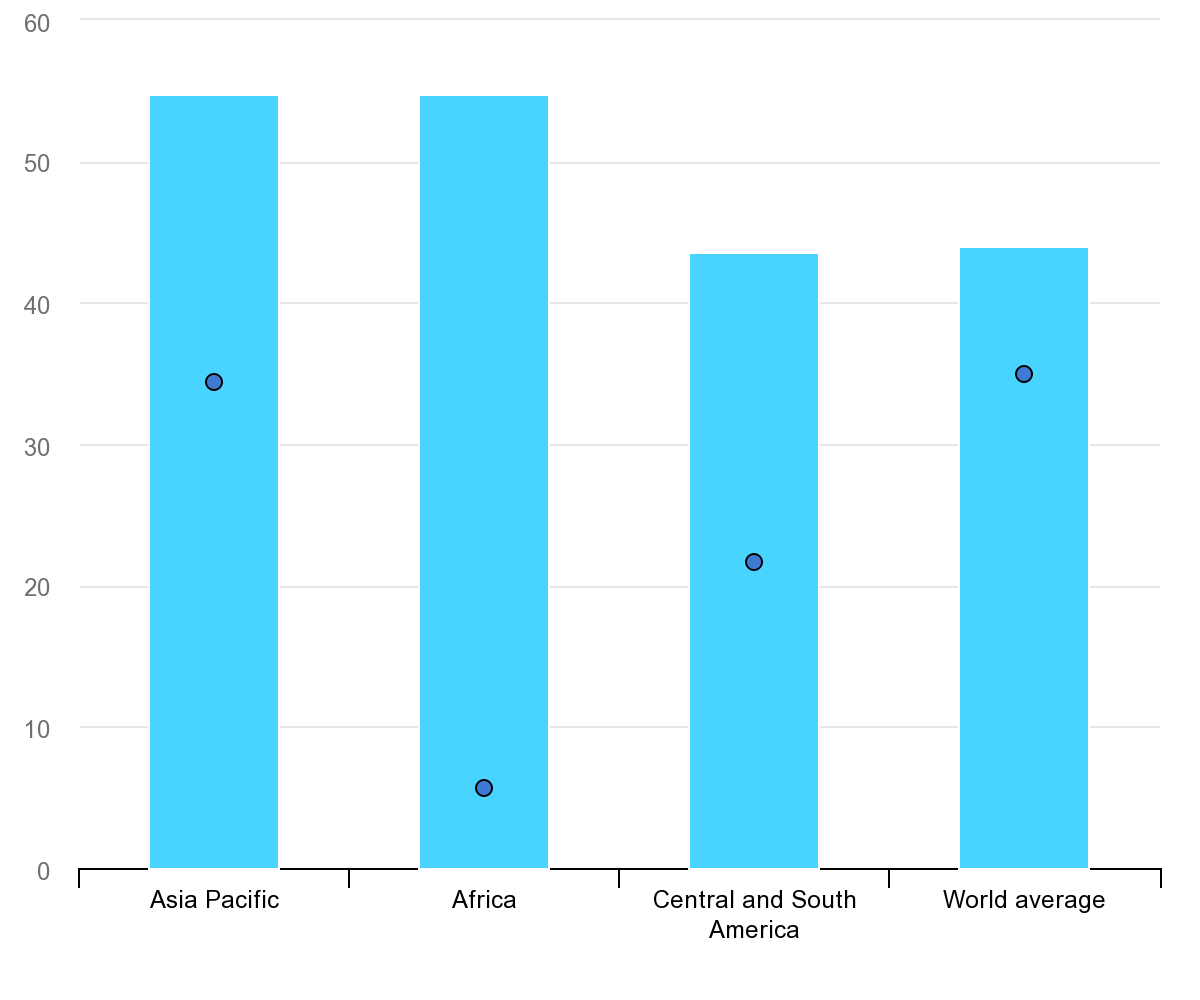 On the issue of air conditioning repair, there is good news. Minnesota's right to repair law, signed by Governor Tim Walz on May 24th, explicitly includes home appliances and HVAC systems among those for which manufacturers must make service manuals, schematics, parts and software available to owners for the purposes of repair. That's a huge win for Minnesotans—whose AC needs pale in comparison to Texans. But—given the Internet—Minnesotans ready access to repair schematics and documentation will likely benefit Texans and residents of other states, as well.
As for the larger debate over AC? It's complex. I'm reminded of low-tech magazine's piece titled "Revenge of the Hot Water Bottle" about how, in a low-consumption world, we will need to rely on simple solutions like hot water bottles to keep ourselves warm in the winter. But what about keeping us cool in the summer? There are few easy answers. What is clear is keeping at risk populations waiting three weeks so a part can be shipped halfway across the world and then given to an over-worked technician to fix a simple problem, is not a sustainable path forward.
More news
The upcoming Fairphone 5 has leaked with images revealing a design with rounded sides, a triangular camera island, slimmer bezels, a hole-punch front camera, and a user-replaceable battery. It does however lack a 3.5 mm jack and wireless charging capabilities. The company is also introducing a transparent colorway, and although precise specifications and release date remain undisclosed, the final design appears to be near completion.
Nokia introduces first smartphone designed for user repair. HMD Global, the Finnish company behind new Nokia smartphones, unveiled the Nokia G42 model on Wednesday. The device can be repaired by customers using parts provided by iFixit, the repair advocacy organization. The new model, which comes with 5G connectivity, starts at a price of $252 for a version with 128 GB of storage.
A new EU law will force smartphone makers to build easily replaceable batteries. Under the legislation, consumers must be able to "easily remove and replace" portable batteries used in devices such as smartphones, tablets, and cameras. The smartphone replacement rules are part of a broader system of EU rules designed to limit e-waste from batteries and electronics.
Broken: Mending and repair in a throwaway world is a new book centered on the importance of repair and mending to reverse our lineage of waste and overconsumption, going back to the Industrial Revolution.
More calls on Google to voluntarily extend the "death date" of Chromebooks are coming from an environmental campaign led by the California chapter of the nonprofit Public Interest Research Group (PIRG). The campaign aims to extend the lifespan of Chromebooks and other electronic devices to reduce e-waste, save money, and protect the environment. By doubling the software support window for Chromebooks sold in California in 2020, the campaign estimates that it could reduce e-waste, save districts $225 million, and have a significant positive impact on the environment.
New vehicle quality in the United States is declining due to increased use of software and lower build quality of certain parts says automotive consultant J.D. Power. Indicated by the increase in vehicles's problems in the past two years, with Tesla experiencing a significant increase in quality issues; electronic touch-point designed door handles on new vehicles, especially battery electric vehicles, have also contributed to the problems.
The Auto Care Association (ACA) has expressed opposition to the National Highway Traffic Safety Administration's (NHTSA), arguing they misunderstood the requirements of the law, which aims to provide secure access to vehicle data for repair and maintenance purposes. The ACA supports the interpretation of the law by the Massachusetts Attorney General, emphasizing the need for consumer safety and privacy protections. U.S. Senators Edward J. Markey and Elizabeth Warren have also criticized the NHTSA's position and requested a reconsideration of its stance.
(*) Statista cites 90% of households having access to AC and the 2020 Census has a rough count of 331 million residents. If 10% of the U.S. population doesn't have AC then it's roughly 33 million people without it.